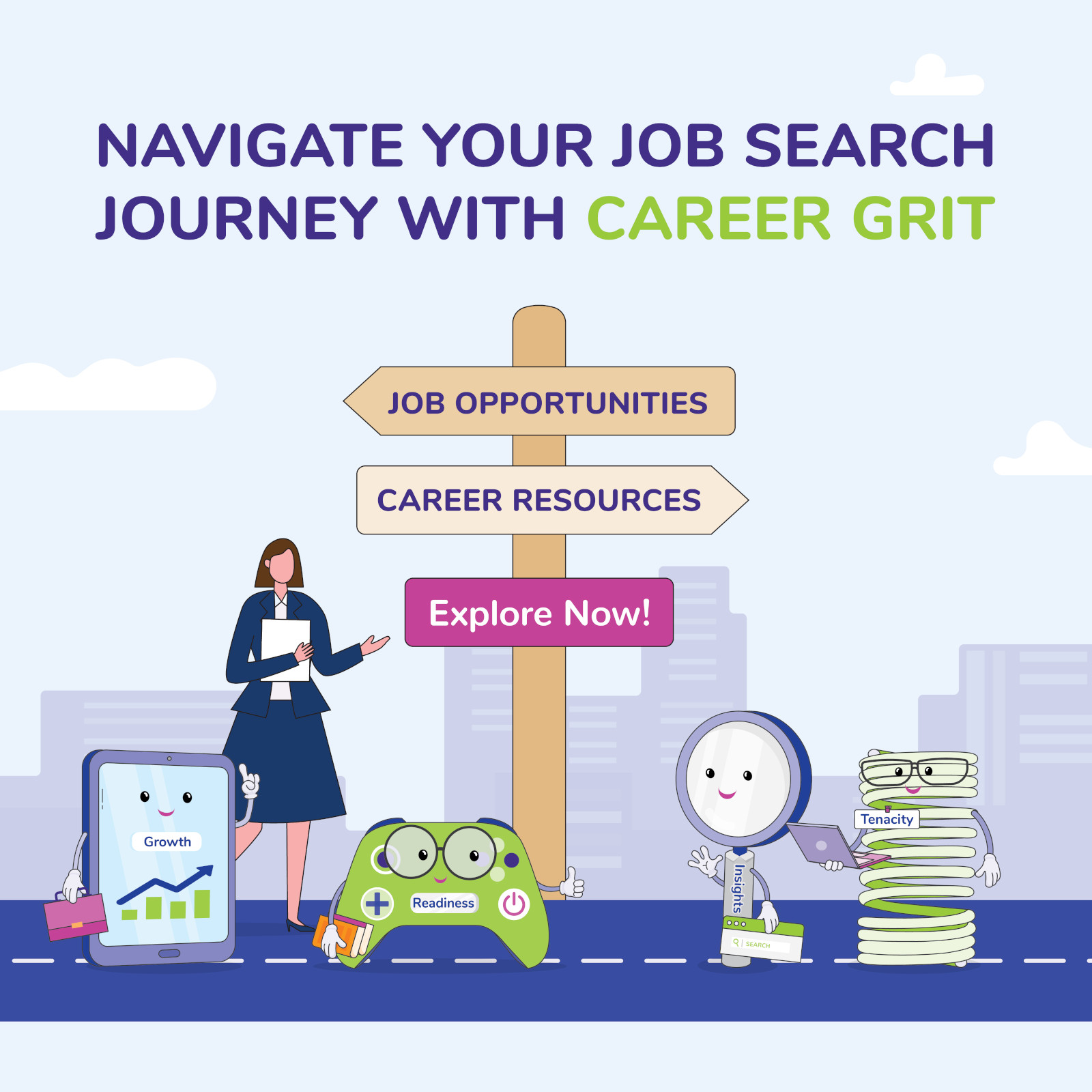 About Career GRIT - Workforce Singapore
Are you looking for a job that matches your skill sets and expertise? Need some extra support in planning your career milestones? With Career GRIT, you can discover practical career-building resources tailored to your unique profile.

Career GRIT, an initiative by Workforce Singapore, is a comprehensive and intuitive career guide that helps you navigate the job market with ease. Our innovative guide provides an easy-to-use platform to access comprehensive career resources and build the skills and confidence needed to unlock your full potential.
Career development in Singapore today
Building a satisfying and successful career in Singapore today requires more than a strong resume. To succeed in this competitive market, you need to nail that first interview, understand the employer and business culture, and consider factors such as location, salary, and role requirements. After landing that job, career resilience and adaptability are also important to consider, especially in our ever-changing job market.

To help you secure a relevant job in the competitive job market and plan for a lasting and resilient career, Career GRIT provides you with resources to build your skills and confidence to reach your goals.
How does Career GRIT work?
Career GRIT is based on four key job strategies that are crucial for job search and career development:
G

rowth

Plan for career growth and development

R

eadiness

Prepare for job search and interviews

I

nsights

Gain industry and hiring insights

T

enacity

Develop resilience for career well-being
With its easy-to-use interface, Career GRIT provides practical resources for everybody in the pursuit of long-term career success. From resume builders and seminars to workshops and personalized career guidance, these resources are tailored to support your unique career journey.
Who is Career GRIT for?
Career GRIT is designed to support jobseekers and employees of different profiles, at all stages of their career journey. This includes those who yet to start their job search, to those who are actively applying or preparing for interviews, or employed individuals who just want to cope better with their career-building process.

These profiles include:
Looking for my first job or new to the workforce
A professional, manager or executive
A non-executive
Recently retrenched
Returning to work after a career break
Planning my career before retirement
Whether you are just starting out in your career or looking for a change, our platform has everything you need to succeed. Sign up for a Career GRIT account now and take the first step towards a brighter career future!
Learn more
Hear what our jobseekers have to say about our Career GRIT Event!